Activate StopSign - Software Says I Need to Pay
Posted by _Robert S., Last modified by George M. on 21 March 2017 06:30 PM
Activate StopSign -
Software Says I Need to Pay

Please follow these instructions to activate your eAcceleration StopSign account.

Before you begin - log onto the internet and temporarily exit any firewall programs you may be running.


1) Open the StopSign Software Station using the instruction that coincides with your current operating system:

Windows XP, Vista, or 7 users:

Click START > PROGRAMS > EACCELERATION > STOP-SIGN > STOPSIGN SOFTWARE STATION.

Windows 8 and 8.1 users:

At the Start screen type STOP (The search box will appear as you type.)
When the StopSign logos appear to your left click on "STOPSIGN SOFTWARE STATION".

Windows 10 users:

In the search box on the task bar at the bottom of your screen type STOP.
When the StopSign logos appear, click on "STOPSIGN SOFTWARE STATION".

2) Click ACCOUNT > EDIT ACCOUNT ( or ACTIVATE) on the menu bar.

Users may see either EDIT ACCOUNT or ACTIVATE depending on whether or not StopSign is currently activated on their computer.

There are two ways to activate your account.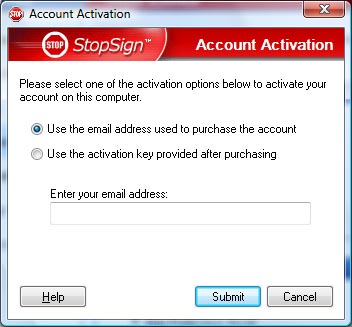 A) eMail Address: you may choose the default method of using the current email address associated with your account

OR

B) Activation Key: you may choose to use the Activation Key provided after purchase. (The Activation Key would have been sent to the email address on file.)

3) Click SUBMIT.

4) In the box that opens, you will have a choice of selecting:
REPLACE COMPUTER - Click this button if you have an existing eAcceleration Membership and are reinstalling your software or transferring the software to a new computer.
UPGRADE ACCOUNT - Click this button if you would like to upgrade your account to protect additional computers (add a license.)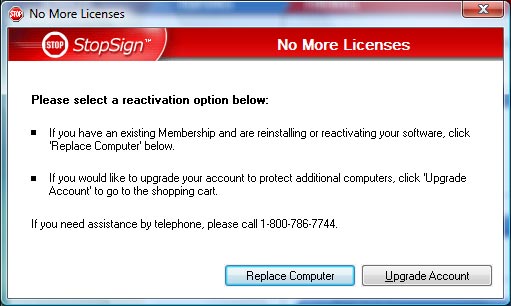 For further assistance -
or
Additional user information may be found via the StopSign KNOWLEDGE BASE.
---