Threat Scanner Settings -Quick Guide
Posted by _Liz G., Last modified by George M. on 23 March 2017 01:17 AM
CLICK HERE for Detailed Threat Scanner Settings
To open the Threat Scanner Settings dialog box choose the instruction that coincides with your operating system below:
Windows XP, Vista, or 7 users:
Click START > PROGRAMS > EACCELERATION > STOPSIGN > THREAT SCANNER SETTINGS.
Windows 8/8.1 users:
At the Start screen type STOP (the search box will appear as you type.) When the StopSign logos appear to your left or right of your screen, click on "THREAT SCANNER SETTINGS".
Windows 10 users:
In the "Search the Web and Windows" box next to the start menu(otherwise known as Cortana), type STOP. When the StopSign logos appear in the results provided, click on "THREAT SCANNER SETTINGS".
On the Threat Scanner Settings dialog box there are three areas where you can change how the Threat Scanner functions.
---
SCANNING Tab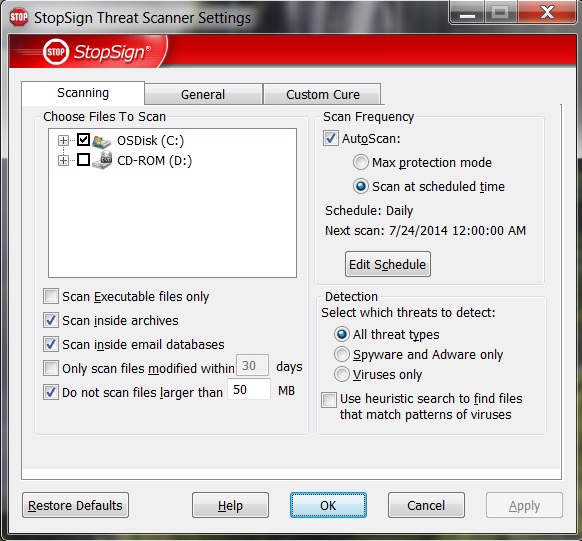 Choose files to scan:
In the upper left portion of the Scanning tab you will see an area with check boxes. These check boxes allow you to choose what drives you wish to scan. If you click the "+" sign next to each drive, you can choose to scan only specific directories or to skip directories from being scanned. A checked box indicates the drive and or directory will be scanned.
Beneath the area where you choose the drives/directories to scan, you may then choose what type and size of files should be scanned.

All files or executable files only


Inside archives

Inside email databases

By the date files were last modified


By file size

NOTE: By default StopSign only scans files smaller than 50Mb. It is possible to change this setting to include larger files, however, it will slow the scanning speed greatly. We recommend doing a "deep scan" by checking this box on occasion to ensure a threat has not attached itself to a larger file. You may un-check the box when the deep scan is complete. You may wish to run a deep scan overnight as it will scan all files on your system and may take quite a while.

Scan Frequency:

In the upper right side of the Scanning tab you can make changes to how often your scanner scans.
AutoScan Turns on automatic scans for the StopSign Threat Scanner. CAUTION: Unchecking the box can put you at risk as any scans for infections will have to be started manually.

Max Protection mode Initiates a scan up to three times in a 24-hour period.


Scan at a Scheduled Time Lets you choose the time, day, and frequency of your automatic scans. To view and edit this schedule, click Edit Schedule. When Scan at a Scheduled Time is selected, it will enable the EDIT SCHEDULE button.
Detection:
In the lower right corner of the Scanning tab you can make changes to your Detection settings, letting you decide what type of infections you would like to scan for.
Spyware and Adware Only

Viruses Only
All Threat Types: Your computer will be scanned for all known threats. We recommend this highest level of protection, even though it will take longer to scan.
---
GENERAL Tab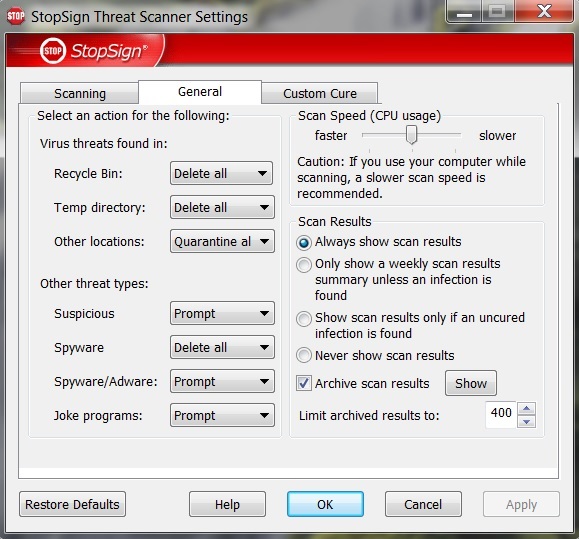 The left side of the General settings tab allows you to designate what actions should be performed when threats are found during a scan. These actions are based on file locations and threat types.
File locations include:

Recycle Bin Recycled and deleted files and folders.

Temp directory Any temporary directory: internet, document, download, etc.

Other locations Any other location included in a normal scan.
Scan speed setting
If you plan to use your computer during the scan, we recommend you change the scan to run no faster than the default (medium speed). If you do not use your computer during scans, you can set the scan to run faster.
Scan results settings
These settings let you choose how often you would like to see scan results from automatic scans. You will always be shown scan results from scans you start manually.
---
CUSTOM CURE Tab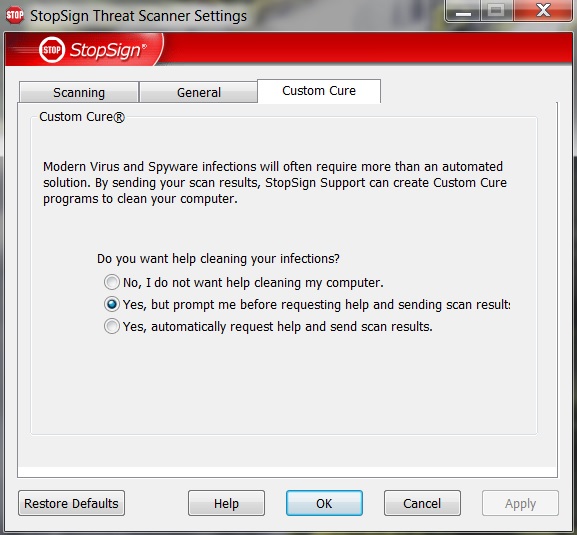 Your privacy is important to us. The only information that is sent is what we need to create a custom cure for your computer. StopSign NEVER shares your information with any third party.

For further assistance -
or
Additional user information may be found via the StopSign KNOWLEDGE BASE.
---